Elephants are one of the many species of animals living in Bravelands.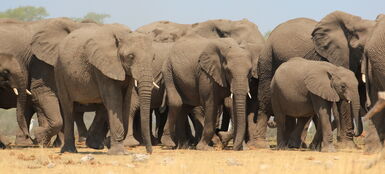 Official description
The most spiritual of the animals in the Bravelands , all elephants can glimpse the past through touching the bones of their ancestors. The past is very important to them, and they love sharing memories and stories. The herds are entirely female, apart from the male youngsters. They are egalitarian, with the herd making decisions together, and they all help raise the calves.
Society
Elephants live together in Herds. As calves all elephants are born into a herd of adult females led a Matriarch. The Matriarch is the oldest and wisest female in the herd. Together the females care for the calves born into their herd. When male calves turn 14, they leave their birth herd and join a herd of bulls. The Females remain with their birth herd. As adults, male and female elephants only gather together in order to mate. After the bull and female mate, they part ways and return to their herds. Due to males and females living in sperate herds, elephant fathers don't play a role in their child's life. When a Matriarch dies in the female herd, the 2nd eldest elephant takes the former's place.
Known herds/families
Known elephants
Great Mother (Sun)